Posted by Laser Tech on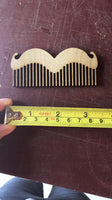 Here's a super fun gift idea or gag gift. If you know someone with a mustache then they probably could use one of these or would at least appreciate the sentiment. Let's get started!MATERIALS: Vector Editor: Adobe Illustrator, CorelDraw or Inkscape, etc. Outfab.com supplied 1/8" Baltic Birch Wood or 1/8" acrylic DESIGN:The mustache is a simple shape so feel free to freestyle and sketch this one out. You can scan your sketch and import the image into your vector editor. From this point you can either trace your sketch with the pen tool or convert the image to a bitmap, autotrace...
Posted by Laser Tech on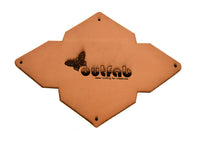 This is an easy introduction to making leather goods. We carry 1/16" vegetable tanned leather and we will use it for this project. We carry size 6" x 12" up to 24" x 24" leather scraps. You can add a button snap, but we are just going to simply glue this envelope together for a quick demonstration. Follow along to make your own wallet to stash your cash, credit cards, business cards or whatever need at the ready.  To complete this project you will need: a vector editor such as InkScape, Adobe Illustrator or CorelDRAW button snap or glue or thread...